Summary & Thoughts
"The Everything Store: Jeff Bezos and the age of Amazon" is a mix between a biography of Jeff Bezos and a history of Amazon.com, much like "Steve Jobs" by Walter Isaacson. I've wanted to read this for a long time, and had high expectations. I'm very happy to say that the book delivered everything I wanted plus more!
"There is so much stuff that has yet to be invented.
There's so much new that's going to happen.
People don't have any idea yet how impactful the Internet is going to be and that this is still Day 1 in such a big way." – Bezos
The start
Bezos started his career at a Wall Street investment fund:
While the rest of Wall Street saw D.E. Shaw as a highly secretive hedge fund, the firm viewed itself somewhat differently. In the owner David Shaw's estimation, the company wasn't really a hedge fund but a versatile technology laboratory full of innovators and talented engineers who could apply computer science to a variety of different problems. Investing was only the first domain where it would apply its skills. So in 1994, when the opportunity of the Internet began to reveal itself to the few people watching closely, Shaw felt that his company was uniquely positioned to exploit it. And the person he anointed to spearhead the effort was Jeff Bezos.
It was through this time the idea of "The everything store" first were born. Bezos later left D.E. Shaw to start his own company, which eventually became Amazon.
Amazon was started on a shoestring budget. Bezos backed the company himself with 10,000$ in cash. He later added 84,000$ in interest-free loans and received a 100,000$ investment from his parents.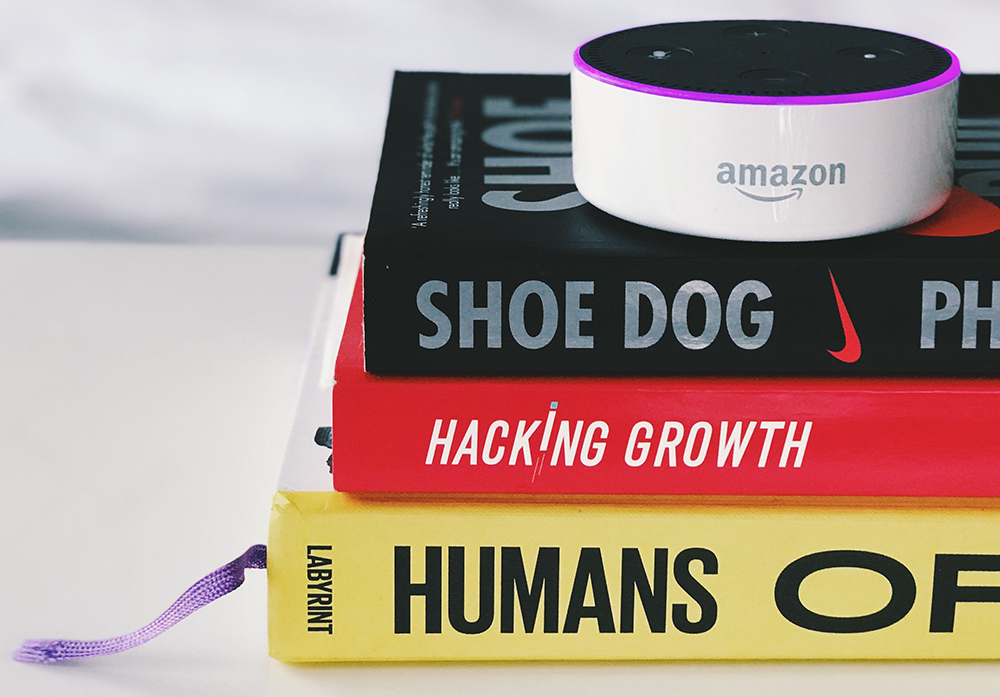 Books where not a coincidence
Amazon's first product catalogue consisted only of books, which were no coincidence. They were easy to send, had the same format for packaging, no expiry date etc. There were also a gigantic number of books available, which meant Amazon could compete with traditional bookstores by simply offering pretty much every book available in the world, since they were not limited by a small, physical store. This also meant that Amazon's first customers were hardcore, loyal fans, often purchasing books they simply could not find elsewhere. This also lead to a positive word of mouth, as they would tell their friends were to find those hidden gems.

Later, when researching new product categories to stock, Amazon hired a "SWAT team" to research categories of products that had high number of SKU's (unique products), were underrepresented in physical stores, and could easily be sent through the mail. This was a key part of Amazon's early strategy: maximising the internet's ability to provide a superior selection of products as compared to those available at traditional retail stores.
Fun fact
One early challenge was that the book distributors required retailers to order ten books at a time. Amazon didn't yet have that kind of sales volume, and Bezos later enjoyed telling the story of how he got around it. "We found a loophole. Their systems were programmed in such a way that you didn't have to receive ten books, you only had to order ten books. So we found an obscure book about lichens that they had in their system but was out of stock. We began ordering the one book we wanted and nine copies of the lichen book. They would ship out the book we needed and a note that said "sorry, but we're out of the lichen book."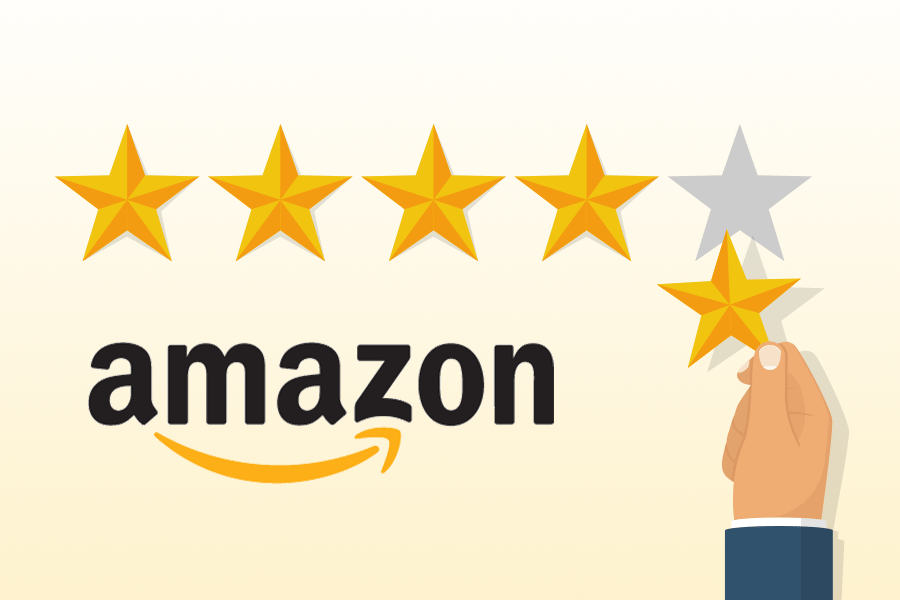 The review function
Amazon early developed a review feature, coded by one of the early developers over a single weekend. Bezos believed that if Amazon.com had more user-generated book reviews than any other site, it would give the company a huge advantage. A lot of the book publishers where unhappy about the feature, due to negative reviews from non-professional critics. However, it went on to serve as an organic marketing channel, where customers used Amazon as a reference guide for purchasing books, looking at the hundred of thousands of user-generated reviews.
How they outcompeted established stores like Barnes & Noble
Bezos had predicted that the chain retailer would have trouble seriously competing online, and, in the end, he was right. The Barnes & Noble owners were reluctant to lose money on a relatively small part of their business and didn't want to put their most resourceful employees behind an effort that would siphon sales away from the more profitable stores. On top of that, their company's distribution operation was well entrenched and geared toward servicing physical stores by sending out large shipments of books to a set number of locations. The shift from mailing small orders to individual customers was long, painful, and full of customer-service errors. For Amazon, that was just daily business.
A lot of the big players in the markets Amazon challenged made the same type of errors. Semi-motivated attempts to build a digital presence, but unwillingness to commit due to a historically stable and more profitable physical market.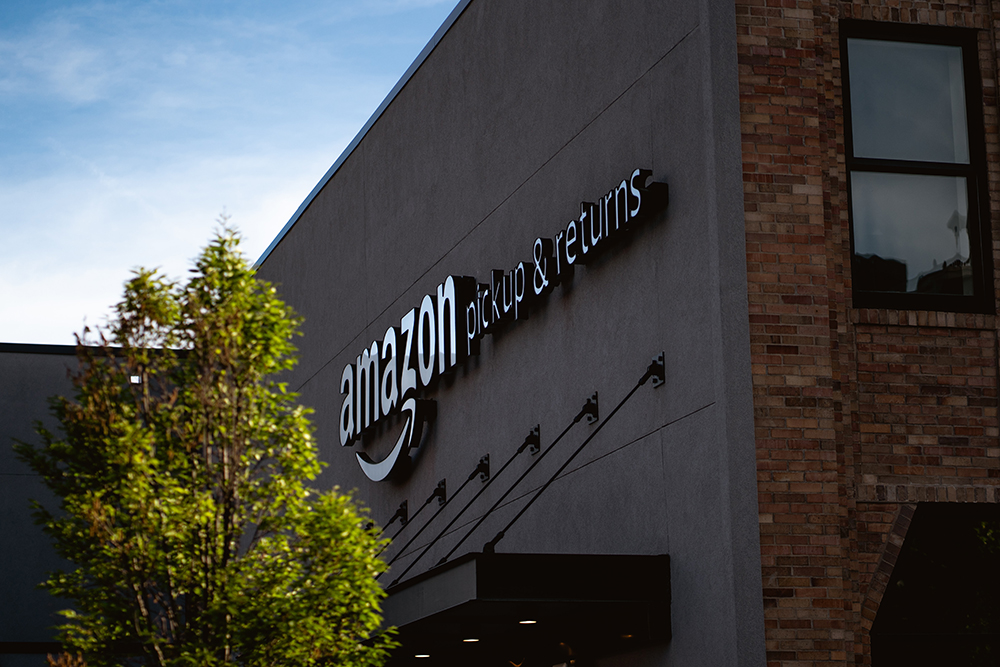 Amazon warehouses/distribution centers
After hiring Jeff Wilke, a Walmart logistic executive to rebuild Amazon's distribution centers, Bezos told him he wanted a distribution system that was ten times larger than it currently was, and not just in the United States but in Amazon's new markets in the UK and Germany. When asked what products they would be shipping, Bezos replied "I don't know. Just design something that will handle anything," Wilke recalls. "I'm going, you're kidding me, right?" And Bezos said "No, that is the mission." I had to have a solution to handle everything but an aircraft carrier."
At Walmart, distribution centers shipped containers of products predictably, once a day, to all stores in the surrounding area. At Amazon, there were innumerable packages going to countless destinations. And there was no predictability, as Amazon sales were growing 300% a year and constantly adding new product categories.
"A customer might order one book, a DVD, some tools – perhaps gift-wrapped, perhaps not – and that exact combination might never again be repeated. There were an infinite number of permutations. We were essentially assembling and fullfilling customer orders. The factory physics were a lot closer to manufacturing and assembly than they were to retail."
To get things under control, Wilke started a series of daily conference calls with his general managers. He told them that on each call, he wanted to know the facts on the ground: how many orders had shipped, how many had not, whether there was a backlog, and if so, why.
Amazon Marketplace
In november 2000, Amazon announced a new initiative called Marketplace. The effort started with used books. Other sellers of books were invited to advertise their wares directly within a box on Amazon's own book pages. Customers got to choose whether to purchase the item from Amazon itself or from a third-party seller. If they chose the latter, either because the seller had a lower price or because the product was out of stock at Amazon, the company would lose the sale but collect a small commission. "Jeff was super clear from the beginning. If somebody else can sell it cheaper than us, we should let them and figure out how they are able to do it."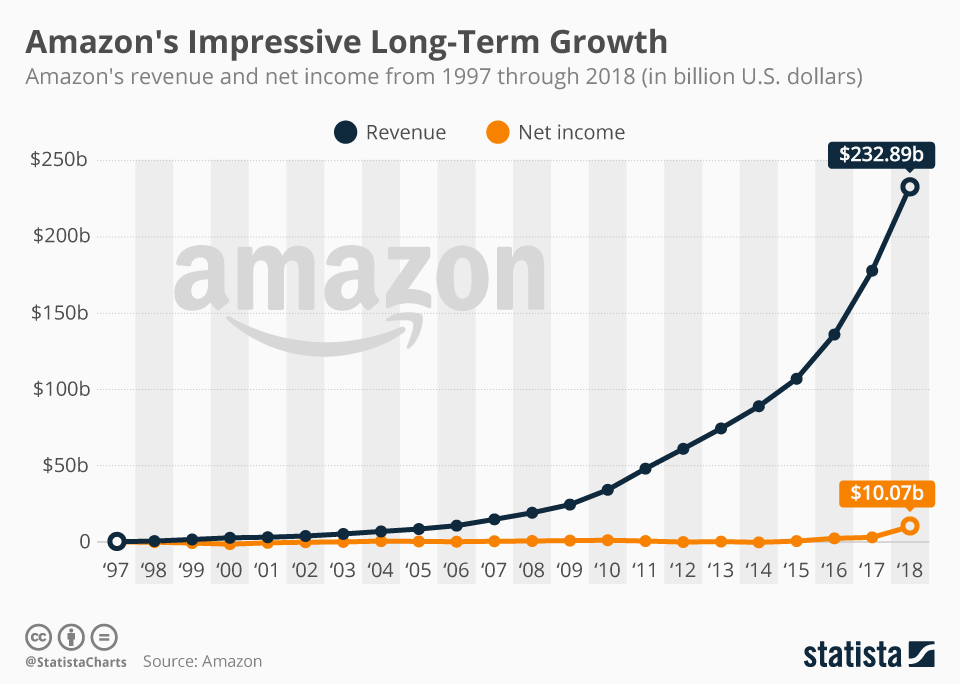 Insane growth
During an early investor presentation, Bezos would tell the investors he projected $74 million in sales by 2000 if things went moderately well, and $114 million if things went much better than expected. This was high goals, but the actual net sales in 2000 tells the story about the explosive growth: $1.64 BILLION.
High demands for the workforce
An early employee worked part-time, which amounted to 35 hours a week. If he wanted to be accepted as a full-time employee, it was expected to almost double that time to around 60 hours a week.
During interviews, if the potential employees made the mistake of talking about wanting a harmonious balance between work and home life, Bezos rejected them.
At Amazon, everyone on the team was supposed to work harder than everyone else. The assumption was that no one would take even a weekend day off. "Nobody said you couldn't, but nobody thought you would. There was deadlines and death marches," says an early employee.
As Amazon's growth accelerated, Bezos drove employees even harder, calling meetings over the weekends, starting an executive book club that gathered on saturday mornings, and often repeating his quote about working smart, hard, and long.
As a result, Amazon had a high churn rate of employees, and a lot of executives left the company when they wanted to have children, as it was not a family-friendly environment.

"Even though we were probably faster than ninety-nine percent of companies of the world, we were still too slow."
"If you're not good, Jeff will chew you up and spit you out. And if you're good, he will jump on your back and ride you into the ground." – Amazon employee
Some of the quotes from Jeff, remembered by the employees:
"If that's our plan, I don't like our plan"
"I'm sorry, did I take my stupid pills today?"
"Are you lazy or just incompetent?"
"If I hear that idea again, I'm gonna have to kill myself"
"Why are you ruining my life?"

But most Amazon employees also acknowledged that Bezos was primarily consumed with improving the company's performance and customer service, and that personnel issues are secondary. "He had this unbelievable ability to be incredibly intelligent about things he had nothing to do with and he was totally ruthless about communicating it. Jeff doesn't tolerate stupidity."
"This has to scale to infinity with no planned downtime. Infinity!" – Bezos
"…It was considered a Jeff project, which meant that the product manager met with Bezos every few weeks and received a constant stream of e-mail from the CEO, usually containing extraordinarily detailed recommendations and frequently arriving late at night."
"The meetings can be intense and intimidating. "This is what, for employees, is so absolutely scary and impressive about the executive team. They force you to look at the numbers and answer every single question about why specific things happened. Because Amazon has so much volume, it's a way to make very quick decisions and not get into subjective debates. The data doesn't lie."
On investments.
In the company's first letter to its shareholders, Bezos wrote: "We will make bold rather than timid investments decisions where we see a sufficient probability of gaining market leadership advantages. Some of these investments will pay off, others will not, and we will have learned another valuable lesson in either case."
Amazon went on to invest in companies like IMDB.com, Exchange.com, Pets.com, Gear.com and a lot of similar companies.
Ultimately, Amazon ended up losing hundreds of millions of dollars on these investments. "Amazon had to be focused on its own business. Our biggest mistake was thinking we had the bandwith to work with all these companies," says one Amazon executive from those days.
On innovation
"The thing about Bezos is that he is not tethered by conventional thinking. What is amazing to me is that is bound only by the laws of physics. He can't change those. Everything else he views as open to discussion."
Jeff have a grand vision for Amazon – that it be not just an everything store, but ultimately an everything company.
"If you look at why Amazon is so different than almost any other company that started early on the internet, it's because Jeff approached it from the very beginning with that long-term vision. It was a multidecade project. The notion that he can accomplish a huge amount with a larger time frame, if he is steady about it, is fundamentally his philosophy."
A major Amazon shareholder once asked Bezos at the profitability prospects for Amazon Web Services. Bezos predicted they would be good over the long term but said he didn't want to repeat "Steve Jobs's mistake" of pricing the iPhone in a way that was so fantastically profitable that the smartphone market became a magnet for competition.
When brainstorming around the Kindle reader: Bezos felt Amazon needed to control the entire customer experience, combining sleek hardware with an easy-to-use digital bookstore. "We are going to hire our way to having the talent," he told his executives in a meeting. "I absolutely know it's very hard. We'll learn how to do it."
When speaking to a design team: "I'll figure this out and it is not going to be a business model you understand. You are the designers, I want you to design this and I'll think about the business model."
In 2002 he started a new personal ritual: He took time after the holidays to think and read. Returning the company after a few weeks, Bezos presented his next big idea to his team. One of this ideas was to split all divisions into smaller team, that set its own "fitness function". For example, a team in charge of sending advertising e-mails to customers might choose the rate at which these messages were opened multiplied by the average order size those e-mails generated. A group writing software code for the fulfillment centers might home in on decreasing the cost of shipping each type of product and reducing the time that elapsed between a customer's making a purchase and the item leaving the FC in a truck. Bezos then wanted to personally approve each equation and track the results over time. It would be his way of guiding a team's evolution.
"Step by step, ferociously." The phrase accurately captures Amazon's guiding philosophy. Steady progress toward seemingly impossible goals will win the day. Setbacks are temporary. Naysayers are best ignored.
On brutality
For the big book publishers, Amazon's dawning monopoly in e-books was terryfying. As suppliers had learned over the past decade, no matter the category, Amazon wielded its market power neither lightly nor gracefully, employing every bit of leverage to improve its own margins and pass along savings to its customers. If the company didn't get what it wanted, the reaction could be severe.

One competitor said: "They have an absolute willingness to torch the landscape around them to emerge the winner."
"We don't have a single big advantage, so we have to weave a rope of many small advantages." – Bezos
Fun facts.
Bezos was one of the original investors in Google, his company's future rival, and four years after starting Amazon, he minted an entirely separate fortune that today might be worth well over a billion dollars (based of a supposedly 250 000$ investment).